Dr. Mathew M. John
Podiatrist / Foot Surgeon in Marietta, GA
Ankle & Foot Centers, PC
Dr. John is originally from the Chicago area where his family decided to settle after emigrating to the US from India in the late '60s. Once relocating to Augusta, Georgia, he finished his undergraduate degree from Augusta State University.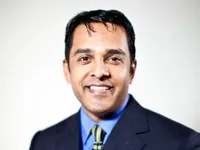 After receiving his Doctor of Podiatric Medicine degree, he completed 3 years of residency in the Baltimore/Washington, DC area which included serving at the National Naval Medical Center, treating the military as well as members of Congress. He received extensive training in reconstructive foot surgery and limb salvage and served as Chief Resident during his third year.
Dr. John is Board Certified by the American Board of Foot and Ankle Surgery and is a Fellow of the American College of Foot & Ankle Surgeons. He is also a member of the American Podiatric Medical Association. He is a published medical journal author as well.
Dr. John is currently the Medical Director of the Atlanta Center for Foot & Ankle Surgery in Sandy Springs . He also serves in helping train podiatric surgical residents in the Atlanta Metro area. With his experience in treating sports athletes, Dr. John volunteered as a team physician for the Georgia Middle School Athletic Association and is a podiatric medical consultant for high school sports programs in Cobb and Cherokee county. As a part of Northside Hospital's Speakers bureau, Dr. John lectures throughout the Atlanta area educating the public on different foot and ankle conditions and the latest nonsurgical and surgical treatments. Dr. John has been in private practice for over 20 years.
---


Credentials:
Fellow: American College of Foot & Ankle Surgeons
Board Certified by the American Board of Foot and Ankle Surgery
Present Appointments:
Private Practice, Marietta, Georgia 2001- present
Former Attending - Dekalb Medical Podiatric Surgical Residency Program
Attending - Atlanta VA Medical Center Surgical Residency Program
Northside Hospital Speakers Bureau
Medical Director - Atlanta Center for Reconstructive Foot and Ankle Surgery
Consulting Podiatrist - Cobb and Cherokee County athletic programs
Education:
Undergraduate
B.S. Biology 1994
Augusta University, Augusta, Georgia

Medical School
Doctor of Podiatric Medicine 1998
Dr. William M. Scholl College of Podiatric Medicine / Rosalind Franklin University of Medicine, Chicago, IL

Podiatric Surgical Residency 1998-2001
Department of Veterans Affairs Maryland Healthcare System / National Naval Medical Center
Served as Chief Resident during 3rd year
Community Activity:
Member at Mt. Paran Church of God, Atlanta
Contact:
---
Our Podiatry Staff
Foot and ankle pain is a common disorder. Almost 80% of the population will experience foot pain in their lives. At Ankle & Foot Centers, PC, we believe that no one should have to live with painful feet- We are trained and equipped to diagnose and treat all problems involving the foot and ankle. We treat people of all ages, for problems such as calluses and bunions, as well as serious injuries and disorders. Many foot and ankle problems can be remedied with conservative care, including correctional orthotic devices. For patients with conditions that fail to respond to conservative care, surgical intervention may be necessary.
Foot and ankle surgery includes the treatment of fractures, repair of tendon injuries, correction of deformity, management of ankle instability and bone/cartilage from sports- related injuries, and comprehensive management of heel pain.
Dr. John and the staff at Ankle & Foot Centers, PC are dedicated to keeping our patients' feet in the healthiest condition. Our goal is to relieve patients of chronic pain and to return function and enjoyment to everyday activities.
Sonya
Sonya serves as our front desk coordinator, scheduling appointments, obtaining insurance information and making sure patients are well informed about their care before and after their appointment. She has over 20 years of healthcare administrative experience.
Marla
Marla serves as our insurance billing and office manager. She has 25 years of insurance billing experience and maintains continuous education on the latest insurance changes in Georgia.
Eeon Eeon serves as Dr. John's Medical Assistant and is experienced in taking xrays and in the use of the MLS laser. He also coordinates scheduling surgery for Dr. John.