At Ankle & Foot Centers we now offer the most advanced laser treatment for fungal toenails. The Cutera Genesis Plus Laser offers the most powerful and effective laser for treating discolored fungal toenails. Cutera's patented micro-second technology, 1064nm long-pulsed laser, has been proven in clinical studies. The Cutera Genesis Plus laser provides the most precise delivery of the ND:Yag laser technology along with temperature control and a larger spot size than other lasers used.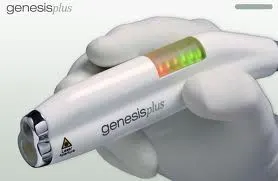 Treatment is performed by Dr. John who is certified in laser technology including ND:Yag and CO2 lasers. Laser treatments are delivered in a short 15 minute session with additional treatments, if needed, performed at 2 months, 4 months and 6 months. This treatment protocol has been developed to provide patients with the most effective fungal laser treatment available. The procedure is painless but some patients may feel a sensation of warmth during the treatment. Treatment is performed on the entire foot to ensure treatment of any cross-contaminated nails . There is no downtime nor anesthesia is required. Clearing of the nail may take 9-12 months once the old fungal nail is replaced by new nail growth. You come in and walk out knowing that your toenail fungus is on its way to becoming clearer!
Laser treatment currently is not covered by insurance. Options are available for one foot or both feet. We often run seasonal specials so call or book online to make an appointment now to rid yourself of unsitely toenail fungus today!
FREQUENTLY ASKED QUESTIONS
Is the procedure FDA cleared?
Yes the Cutera GenesisPlus laser is FDA cleared for use by physicians who diagnose and treat onychomycosis (fungal nails)
Is the laser treatment painful?
The laser treatment is painless to most patients. Some patients may feel warmth and heat to the nail during treatment which can be uncomfortable to some but this is temporary. No anesthesia or injections are needed.
How does the laser clear fungal nails?
The Cuteral GenesisPlus laser penetrates the nail and tissue to use focused and precise heat that is absorbed by the pigment within fungal organisms and destroys the fungus.
Does the toenail come off after the laser treatment?
No the nail is not removed by the laser. The laser destroys the fungus in the existing nail and keeps the fungus from infecting the new nail growth. That is why it takes 9-12 months to see the fungus completely cleared from the nail.
Can I walk after the treatment?
Yes, there are no bandages or special shoes needed. You have the procedure done and walk out and resume normal activity.
When can I paint my nails after treatment?
Toenail polish can be reapplied the following day. Polish must be removed on the day the laser treatment is performed.
How many treatments are needed?
Many patients will see their fungal nails clear with one treatment but often for nails that have been infected by fungus for several months or years will need at least 4 treatments or more. Those having fungal nails less than a year often see complete clearing of the nail after one treatment. It can take 9-12 months to see complete clearing of the fungal nail.
After my laser procedure will I need to do anything else for my toenails?
Yes, following your laser treatment you will be given after care instructions. This includes using a TOPICAL Fungal Toenail (Onychomycosis) Treatment to the nail area. In addition, spraying your shoes with an antifungal spray is needed. Often fungal organisms within the shoe can reinfect nails. Remember fungal toenails can become reinfected if proper preventive measures are not taken.
Is laser treatment for fungal nails covered by my insurance?
No, laser treatment for fungal toenails is considered an aesthetic procedure and is not covered by insurance. If you have a Health Savings Account (HSA) or flex spending account, payment for laser treatment may be used with these types of accounts.
If I have only one toenail on each foot infected by a fungus are just those toes treated?
If one toenail on one foot is infected, treatment is performed on all toes of that foot. This is required in order to treat any cross contaminated nails. If one toenail is infected on each foot then all 10 toenails will be treated.
If you suffer from toenail fungus, call our Marietta podiatrist today!