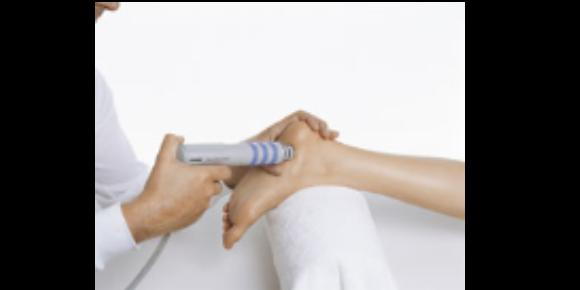 Heel pain can be caused by a number of foot conditions, including plantar fasciitis (also known as heel spurs), Achilles tendonitis and 
bursitis. When left untreated, it can become difficult if not impossible to walk normally. Explore the benefits of Sonic Shockwave Treatment, a non-invasive procedure offered at Ankle and Foot Centers in Marietta, GA to relieve heel pain.

What Is Sonic Shockwave Treatment?
During a sonic shockwave treatment, also called Extracorporeal Sound Wave Treatment (ESWT), a device emits waves of intense energy to a specific area of the body. It's used in podiatric medicine to relieve pain in the foot that's caused by bone and soft tissue disorders. The device used is a handheld wand that your podiatrist positions at various points around the foot to help ease pain.

How this Treatment Helps with Heel Pain
The waves of energy that come from the shockwave device help to heal and repair painful tissue in the heel. It also helps increase the flow of blood to the area so that it can get the nourishment it needs to heal properly. The procedure can be administered by your Marietta podiatrist in one appointment with sedation using high energy waves or over the course of several appointments with low energy waves.

Post-Treatment Tips
Your podiatrist will consult you about aftercare treatment, but there are a few things to keep in mind after sonic shockwave treatment for heel pain:
If you work a strenuous job that requires you to be on your feet for long periods of time, take as much time off of work after the therapy as possible so that you have time to heal.
Wear the walking boot prescribed by your doctor for the recommended time period (usually three weeks).
Discuss custom orthotic devices with your podiatrist that you can wear in your everyday shoes so that you won't have problems with heel pain in the future.
Talk to Your Podiatrist
If you have heel pain that doesn't seem to go away or is getting worse, contact Ankle and Foot Centers, PC in Marietta, GA to discuss Sonic Shockwave Treatment. Call the office at (770) 977-3668 today for an appointment.