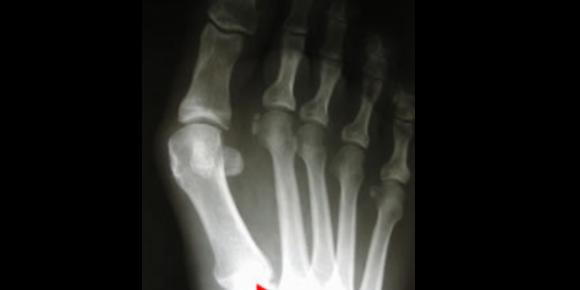 Chronic bunion pain can really impact your daily activities, and it's only natural to seek relief. Luckily at Ankle and Foot Centers in Marietta, 
GA, Dr. Mathew John treats bunions with the latest surgeries and other more conservative interventions. Podiatry is his passion, and he loves helping people live pain-free, active lives—read on to learn how he can help you too!
 
What is a bunion?
The medical term is Hallux valgus, an acquired deformity of the joint at the base of the big toe. A bunion bulges outward, causing a noticeable, and often red and sore, bump. The big toe may eventually impinge on the second and even third toes of the foot.
The American Academy of Orthopaedic Surgeons says that bunions may progress to the point of immobility and disability. However, treatment can limit or even eliminate the problem.
 
Evaluating your bunion
Your podiatrist, Dr. John at Ankle and Foot Centers, will inspect your foot, specifically evaluating the problem joint and any skin irritations associated with it. He'll watch you walk and ask you about your symptoms. X-rays also give the podiatrist a clear view of how the metatarsophalangeal joint looks.
This joint flexes every time a person takes a step, and its overuse combined with pressure from tight shoes will cause bunion formation. Regular wear and tear associated with aging is another major factor in the deformity's development.
 
Treating the pain and deformity
Dr. John has a vast expertise in bunion surgery, especially base procedures which involve joint fusion and head procedures which modify the bone in the big toe. However, some patients do not require bunion surgery, but rather, respond well to more conservative interventions which cushion and stabilize the damaged joint. When visiting the Marietta office, you and Dr. John will discuss a treatment plan specific to your activity level, lifestyle, and what stage your bunion development is at.
His recommendations may include:
Over the counter analgesics such as ibuprofen and acetaminophen
Ice to the joint to reduce swelling
Rest and elevation above the level of the heart
Bunion padding to reduce friction, soreness, and corn/callus formation
Toe spacers
Shoes with a wide toe box and low heels
Socks which fit properly with no bunching or pinching
Keeping a healthy body weight
Feel good
When your feet feel good, you do, too! If you are experiencing changes in your foot and ankles and wish to keep your current level of activity, please see Dr.  Mathew John at Ankle and Foot Centers—he knows what's best for podiatric patients of all ages. Call the Marietta office today for an appointment regarding your bunion pain: (770) 977-3668.